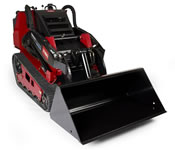 Introducing our newest tree service machine, the Dingo TX 1000! The TX 1000 is very light and maneuverable machine with unmatched strength and reach. This is a powerful compact utility loader with a 1000 lb operating capacity. With this machine we can access your yard and hard to reach areas with minimal damage.
Unlike heavy tree service equipment, the Dingo TX 1000 is narrow and light which means less damage to your yard and lawn.
Small Footprint
This TX 1000 is a narrow model and is only 33.7″ wide and can fit through a standard 36′ gate. The lightness of this model will ensure a small footprint on your yard.
High Drive Track System
The high drive track system is perfect for any surface including sand or loose gravel and is a major advantage for any job site.
Incredible Height & Reach
The TX 1000 has an 81″ reach that allows attachments to easily clear the side of a 30 yard dumpsters or 1 ton trucks.
Powerful Machine
The vertical lift arm allows the TX 1000 to lift and transport heavy items with an operating capacity of 1000 pounds.